Alabama Centennial Half Dollar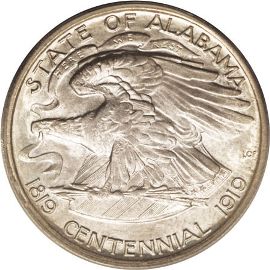 The 1921 Alabama Centennial Half Dollar was made to commemorate the 100th anniversary of Alabama entering the Union in 1819. The centennial was in 1919 and many celebrations were held then, however, these coins were not even proposed until 1920. The Alabama Centennial Commission promoted a piece of Legislation to Congress for a commemorative quarter, which was later changed to a half dollar on April 21, 1921. Later on that year the coins were produced and later sold for their true purpose of profit and greed.
The design selection of the Alabama Centennial Half Dollar was a long one indeed. The first suggestion was to have a bust of James Monroe, the president in 1819 and Woodrow Wilson, president in 1919. The reverse was to show The Capitol Building on Capitol Hill. This original idea was not approved by designer Laura Gardin Fraser as she felt that buildings did not belong on coins. By the time the design was complete in 1921, two years after the centennial, Warren G Harding was elected President. He was not able to get approval to be added to the coin in the place of Wilson due to being a Republican, and the south being predominantly Democratic. The final design was changed entirely, now featuring past Governors instead of Presidents.  Ironically, at the time, this design was against federal law, which did not allow for images of living persons on U.S. Coins.
The obverse shows images of William Wyatt Bibb, governor of Alabama in 1819, and Thomas E. Kilby, the governor during the Centennial. The inscriptions on the obverse of the coin read "UNITED STATES OF AMERICA", "IN GOD WE TRUST" across the top. Also, on the lower part the coin reads "BIBB 1921 KILBY" and "HALF DOLLAR" for the denomination. Some coins were minted with a small 2X2 behind Kilby's neck have special meaning. The "X" is supposed to represent St. Andrew's cross, which is included in Alabama's state flag. The 22 is an indication of Alabama being the 22nd state to enter the union.
The reverse shows an eagle perched on a shield. The eagle has a ribbon in its beak and arrows in its talons. Around the edge of the coin reads "STATE OF ALABAMA", "CENTENNIAL" and is dual dated "1819 – 1919". Also, the ribbon in the eagle's beak reads "HERE WE REST" which is Alabama's state motto.
Dates Minted: 1921
Authorization: Act of May 10, 1920
Authorized mintage: 100,000
Actual distribution: 6,000 (2X2), 59,000 (Plain)
Designer: Laura Gardin Fraser
Weight: 12.50 grams
Composition: 90.0% Silver, 10.0% Copper
Diameter: 30.6 mm

Alabama Centennial Half Dollar to Commemorative Coins
Back to Coin Collecting Homepage