Presidential Dollars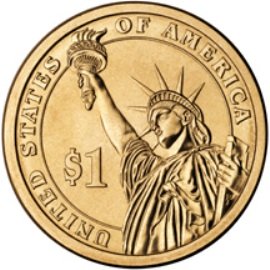 The Presidential Dollars program began in 2007 and will run until at least 2016, concluding with Ronald Reagan as the 40th President. The Mint will issue coins featuring four presidents per year. These coins will be distributed for three months before moving on to the next president in chronological order by term in office.
This series constitutes the third attempt by the US Mint to replace paper dollars with a dollar coin which lasts much longer in commerce. Also, the coins have the same composition as the Sacagawea dollar coins, appearing golden in color due to
manganese brass plating on them.
The reverse of the coins bears the Statue of Liberty, the inscription "$1" and "UNITED STATES OF AMERICA". Inscribed along the edge of the coin are the year, mint mark, 13 stars, and also the legends "E PLURIBUS UNUM" and "IN GOD WE TRUST".
Below is a chronological listing of these dollar coins in the order of their release. To navigate, click on the image to go to that specific page. The site is under construction, so please be patient and check back often.


2007


2008



2009




2010




Presidential Dollars to Silver Dollars
Back to Coin Collecting Homepage