Barber Dimes 1892-1916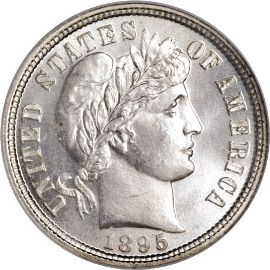 The First Barber Dimes were struck at the US Mint on Jan 2, 1892 and continued from then until 1916. This design was brought about through public dissatisfaction with the Seated Liberty design. In 1891 Mint Director James Kimball announced a design competition opened to the public, to re-design the coin. Over 300 drawings were submitted to the Mint and only two of those had any merit. Kimball was nearing the end of his Mint Directorship and no decision had been made, so that was left up to his successor Edward O. Leech. Finally, Leech simply directed Charles E. Barber to design the new coins.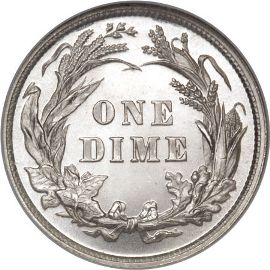 Barber simply modified the design George T. Morgan used on the Morgan dollar. He added a Liberty cap and cropped Liberty's hair shorter in back. He then placed his initial B on the truncation of the neck. This design is also the same
on the Quarter and Half Dollar.
The reverse of these silver coins uses almost exactly the same cereal wreath used on the Seated Liberty dime of 1860-1891. The wreath was composed of leaves of corn, wheat, maple and oak, and it would remain in use on dimes, essentially unchanged, until the end of the
series in 1916.
Coin Specifications:
Designer: Charles E. Barber
Weight: 2.50 grams
Comp: 90.0% Silver, 10.0% Copper
Diameter: 17.9mm
Edge: Reeded