Barber Quarters 1892 to 1916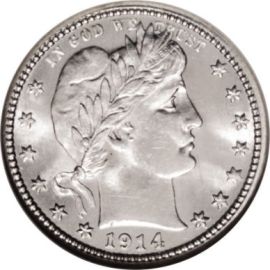 Barber Quarters were produced at the US Mint from 1892 to 1916. Barber coins come in denominations of ten, twenty-five and fifty cents. This coin design has the distinction of being one of only four to be solely recognized by the designer's name. The other three include: Christian Gobrecht, George T. Morgan each
for their beautiful dollar designs, and Augustus Saint-Gaudens for his double eagle, that many say, is the most beautiful coin ever made.
These silver coins feature a bust of Liberty similar in style to that of the Morgan Silver Dollar but facing right.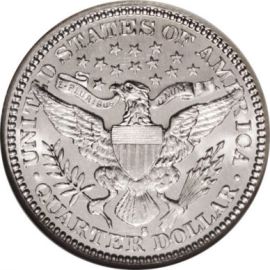 She is wearing a Liberty cap topped with a laurel wreath, and a ribbon ties her hair in the back of her neck. The inscription above reads "IN GOD WE TRUST" and the date is found below. Six stars on the left and seven on the right represent the original thirteen colonies.
The reverse was inspired by the Great Seal of the United States and depicts an eagle with spread wings, holding an olive branch with thirteen leaves in its right claw and a bundle of thirteen arrows in its left. The eagle holds a ribbon with the motto "E PLURIBUS UNUM" in its beak and thirteen stars are in the field above.
This type of silver quarter is rarely
seen in bags of junk silver coins, but
on occasion they pop up in older
unsearched bags.
Coin Specifications:
Designer: Charles E. Barber
Weight: 6.25 grams
Comp: 90.0% Silver, 10.0% Copper
Diameter: 24.3mm
Edge: Reeded