Braided Hair Large Cents
The end of an era.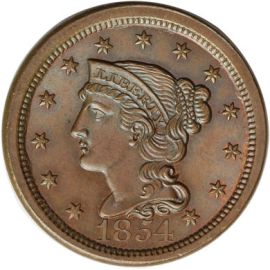 Braided Hair Large Cents were produced between 1835 and 1857. Designed by Christian Gobrecht, these large copper coins mark the end of an era in U.S. coinage. In 1857 the mint determined that, with rising copper prices, it would cease production. The cost to the mint was $1.06 to make $1.00 face value of these coins at the time.
Most collectors refer to coins made from 1839 through 1843 as the Young Head type. They show Lady Liberty leaning forward and having a younger look than Gobrecht's later rendition, on which the head is more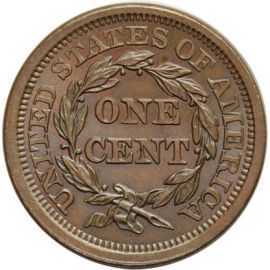 upright and poised in the field of the coin. Also, Liberty is surrounded by the normal thirteen stars, and shows the date below.
The reverse shows a continuance of the single stem Laurel Wreath design. The wreath has the inscription "ONE CENT" within and "UNITED STATES OF AMERICA" encircling it. The wreath also has a bow holding it together at the bottom.
Coin Specifications:
Designer: Christian Gobrecht
Weight: 10.89 grams
Composition 100% Copper
Diameter: 27.5mm
Edge: Plain




Braided Hair to Large Cents
Back to Coin Collecting Homepage