Buffalo Nickels Type 2 (Level Ground)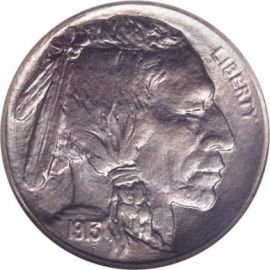 Buffalo Nickels are one of the most well liked coins ever produced at the US Mint. The second type in the series is of the same design as the first, with a slight modification. On the type two nickels, the bison is not standing on a mound, but rather it is standing on level ground. The production began in 1913 and ran through 1938 for this coin. The design of the coin has also been used on the 2001 American Buffalo Commemorative Silver Dollars as well as the American Buffalo Gold Bullion coins, beginning in 2006.
The obverse of this Indian head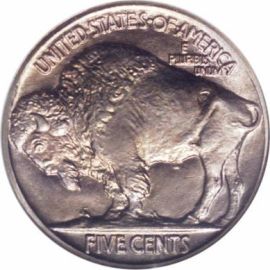 nickel is a composite of three Indian chiefs who had posed for James Fraser years earlier, before he was commissioned to create it. The inscription "LIBERTY" is at approximately the 2 o'clock position on the obverse and the date is on the shoulder of the Indian chief.
The reverse shows an American Bison standing on level ground with the inscriptions "UNITED STATES OF AMERICA" and "E PLURIBUS UNUM" above the portrait. The design also has the denomination "FIVE CENTS" below.
Coin Specifications:
Designer: James E. Fraser
Weight: 5.00 grams
Composition 75% Copper, 25% Nickel
Diameter: 21.2mm
Edge: Plain




Buffalo Nickels (Level Ground) to Nickels
Back to Coin Collecting Homepage