California Diamond Jubilee
Half Dollar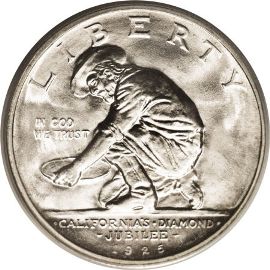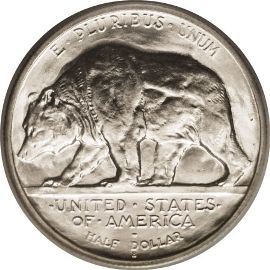 The 1925 California Diamond Jubilee Half Dollar was created to commemorate the 75th anniversary of California entering the union in 1850. After the Mexican War and the Treaty of Guadalupe Hidalgo, the Territory of California was ceded to the United States by Mexico in 1848.
After the discovery of gold at Sutter's Mill in 1848, cities like Sacramento and San Francisco grew exponentially in a very short period of time. It should not come as a surprise that two years later the area became a state and had the largest population of any other state at that time. By 1850 over 100,000 people, with the hopes of striking it rich, called it home.
This commemorative half dollar was designed by Joseph Mora. Originally born in Uruguay, he resided in a small town called Carmel, CA in the 1920's. The obverse of the coin shows a miner panning for gold. The inscriptions read "LIBERTY" along the upper edge, and "IN GOD WE TRUST" in the left field of the coin. Also, the coin reads "CALIFORNIA DIAMOND JUBILEE" as well as the date of "1925".
The reverse shows the state emblem of California. Most would say it has a Grizzly Bear as its central theme. However, it is actually an extinct subspecies of the Grizzly called the Californian Golden Bear. The bear pictured is supposed to be the last one of its kind held in captivity. The bears name was Monarch and it passed in 1911. It was preserved and displayed at the Academy of the Sciences in San Francisco CA. The coin's inscriptions read "E PLURIBUS UNUM" along the upper edge, and "UNITED STATES OF AMERICA" as well as the denomination "HALF DOLLAR" along the bottom.
In grading this coin, one of the first areas to show wear on the obverse is the folds of the shirt sleeve. The first area to show wear on the reverse is the bears shoulder. This commemorative is usually found fairly well struck with decent details. However, weaknesses are sometimes spotted in the outer letters on the obverse and the details on the bear in the reverse. The coins are found in abundant supply in grades up to MS-65 and become increasingly rare in MS-66 and MS-67
Dates Minted: 1925
Authorization: Act of February 16, 1925
Authorized mintage: 300,000
Actual distribution: 86,394
Designer: Jo Mora
Weight: 12.50 grams
Composition: 90.0% Silver, 10.0% Copper
Diameter: 30.6 mm

   California Diamond Jubilee Half Dollar to Commemorative Coins   Back to Coin Collecting Homepage