Capped Bust Eagle - Robert Scot's rendition of the Great Seal.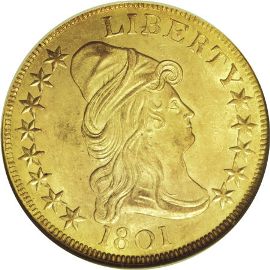 The Capped Bust Eagle (Heraldic reverse) was adopted after much public criticism. The design was changed from the small eagle reverse to the much larger heraldic eagle reverse and was modeled after the Great Seal of the United States of America.
The obverse of these gold coins is essentially the same as the smaller counterpart in the half eagle series. It shows a portrait of Liberty wearing a cloth cap by Robert Scot. Above the portrait is the inscription "LIBERTY" and below it the date. The design is surrounded by thirteen stars.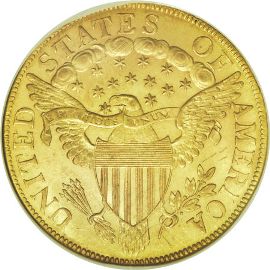 The reverse is of a Heraldic Eagle motif with wings outspread. A line of clouds connect the eagle's wingtips, and thirteen stars lie beneath the clouds. Also, the eagle is clutching a scroll in its beak that reads "E PLURIBUS UNUM". Encircling the entire design is the inscription "UNITED STATES OF AMERICA"

Coin Specifications:
Designer: Robert Scot
Weight: 17.5 grams
Comp: 91.7% Gold, 8.3% Silver
Diameter: 33mm
Edge: Reeded




Capped Bust Eagle (Heraldic Eagle) to Eagles
Back to Coin Collecting Homepage