Capped Bust Eagle - Largest gold coin
for over Fifty Years!
The Capped Bust Eagle (small eagle version) was produced from 1795 to 1797. They were the largest gold coins made at the U.S. Mint until the Double Eagle started in 1849. To most coin collecting enthusiasts, these rare gold coins are only seen at coin shows and in shops if you're lucky!
The obverse of this coin is essentially the same as its smaller counterpart. It shows a portrait of Liberty wearing a cloth cap by Robert Scot. Above the portrait is the inscription "LIBERTY" and below it the date.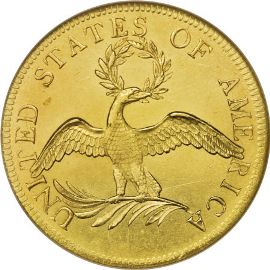 The reverse of this coin shows a relatively small eagle with wings spread, and a wreath in its beak. The eagle is clutching a palm branch in its talons. The palm branch has from nine to thirteen leaves, depending on the variety. Encircling the entire design is the inscription "UNITED STATES OF AMERICA"

Coin Specifications:
Designer: Robert Scot
Weight: 17.5 grams
Comp: 91.7% Gold, 8.3% Silver
Diameter: 33mm
Edge: Reeded




Capped Bust Eagle (Small Eagle) to Eagles
Back to Coin Collecting Homepage