Capped Bust Half Dimes - Same tenure as President Andrew Jackson.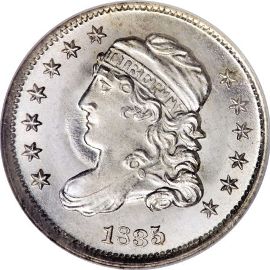 Capped Bust Half Dimes arrived in circulation after a twenty-four year break at the end of the Draped Bust series. These coins were in production at the US Mint from 1829 to 1837. Interestingly enough, this time period coincides very closely with Andrew Jackson's two terms as the seventh President of the United States.
This series of half dimes was designed by William Kneass. The obverse of these silver coins bears a resemblance to the earlier issues of dimes, quarters, and half dollars that were designed by John Reich.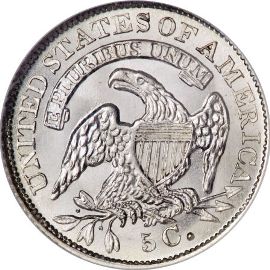 Although the basic design was taken from Reich's work, enough modifications were made by Kneass to sufficiently credit him with the design.
Thirteen 6-pointed stars encircle the portrait of Liberty on the obverse and the date shows below her. Liberty is wearing a cap with long curly locks of hair beneath it, her hair flowing down to her shoulder.
The reverse shows "E PLURIBUS UNUM" inscribed on a ribbon just above an eagle perched on an olive branch. The coin reads "UNITED STATES OF AMERICA" around
the upper rim and the denomination
is shown below the eagle as 5 C.
Coin Specifications:
Designer: William Kneass
Weight: 1.35 grams
Comp: 89.2% Silver, 10.8% Copper
Diameter: 15.5mm
Edge: Reeded




Capped Bust Half Dime to Half Dimes
Back to Coin Collecting Homepage