Capped Bust Half Dollars
Reeded Edge (50 Cents)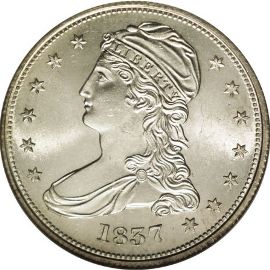 The first Capped Bust (Reeded Edge) Half Dollars were coined at the US Mint in 1836 and 1837 with the advent of the steam press. The new technology for making coins came with some distinct advantages and dis-advantages. In the early days of the mint, the screw press was used to make coins. The only way to power the press was with horses, oxen and good old fashion manpower. The steam press was much more efficient and it made coins more uniform in size and strike. However, it came with a price as the mint did not have a way to impart lettering on the edge of the coins
with this type of press.
The obverse of these silver coins is similar to the half dollars that preceded them. Christian Gobrecht added some subtle changes such as reducing the size of the stars and slenderizing Liberty.
The reverse shows an eagle clutching arrows and an olive branch in its talons. The designer removed "E PLURIBUS UNUM" and modified the statement of value to say "50 CENTS" instead of "50 C" but the basic design remains from the earlier coins.
Coin Specifications:
Designer: Christian Gobrecht
Weight: 13.36 grams
Comp: 90.0% Silver, 10.0% Copper
Diameter: 30mm
Edge: Reeded




Capped Bust Half Dollar Reeded (50 Cents) to Half Dollars
Back to Coin Collecting Homepage