Reeded Edge Capped Bust Half Dollar (HALF DOL)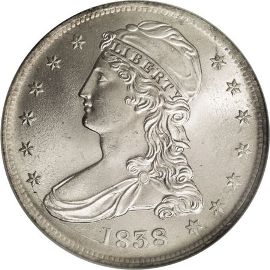 Another type of Capped Bust Half Dollar was coined at the US Mint in 1838 and 1839. These half dollars are almost identical to those of 1836-37 with the exception of the statement of value. The steam press made it impossible to impress lettering or any other type of design on the edge of the coin, edges had to be either reeded or plain.
The obverse of these silver coins is similar to the half dollars that preceded them. Christian Gobrecht added some subtle changes such as reducing the size of the stars and slenderizing Liberty. He also created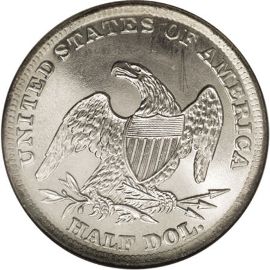 some different lettering styles and sizes.
The reverse shows an eagle clutching arrows and an olive branch in its talons. The inscription "UNITED STATES OF AMERICA" reads above the eagle. The designer also removed "E PLURIBUS UNUM" in 1836 and modified the statement of value to say "HALF DOL" instead of "50 CENTS" in 1838. Overall, the basic design remains from the earlier coins.
Coin Specifications:
Designer: Christian Gobrecht
Weight: 13.36 grams
Comp: 90.0% Silver, 10.0% Copper
Diameter: 30mm
Edge: Reeded




Capped Bust Half Dollar Reeded (HALF DOL) to Half Dollars
Back to Coin Collecting Homepage