Capped Bust Quarter Eagles Head to Left
A new design by John Reich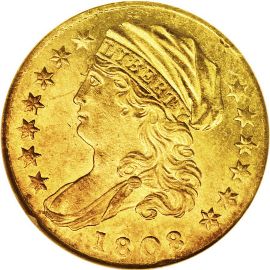 The Capped Bust Quarter Eagles of 1808 were designed by John Reich. These rare gold coins are highly sought after as one year type coins.
Robert Scot was the tenured chief-engraver at the time John Reich was hired at the mint. Reich was a very skilled artist but Scot did not want to give up his post as chief engraver. Scot did everything in his power to keep him from designing any coins at all. As the years passed Reich began feeling unappreciated and prepared to return to his native Germany. Before this could happen Mint Director Patterson intervened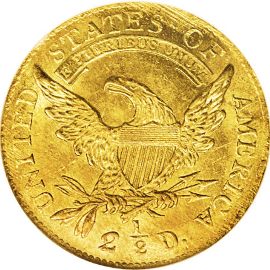 with a letter to President Thomas Jefferson. At that point Reich was promoted to Assistant Engraver at an annual salary of 600 dollars. This amount was half of what Scot was earning.
The obverse of these gold coins has a re-designed Miss Liberty with her head facing to the left. Many ridiculed Reich's design as being "the artist's fat mistress". Surrounding his portrait of Liberty are 13 stars on the sides and the date below.
The reverse of this coin is a total opposite of Scot's design. Reich's design is more of a natural looking
eagle perched on an olive branch clutching arrows in its talons. Above the eagle is a ribbon with the motto "E PLURIBUS UNUM" Surrounding the entire design is the inscription "UNITED STATES OF AMERICA" with the denomination 2 1/2 D below.

Coin Specifications:
Designer: John Reich
Weight: 4.37 grams
Comp: 91.7% Gold, 8.3% Silver
Diameter: 20mm
Edge: Reeded




Capped Bust Quarter Eagles (head to left) to Quarter Eagle
Back to Coin Collecting Homepage