Capped Bust Quarter Eagle no stars
Rarely used in daily commerce.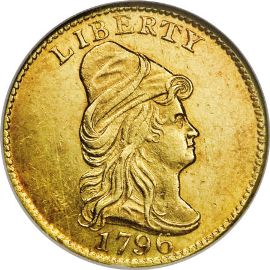 Capped Bust Quarter Eagles (no star obverse) were the first ever $2.50 gold coins produced by the U.S. Mint. The Mint made this particular coin only in 1796. This design only lasted one year till the mint decided to add stars to the obverse of the coin. They were designed by Chief Engraver Robert Scot.
The obverse design is of Liberty facing right; she is wearing a soft cap with the inscription "LIBERTY" above, and the date below. The cap was long thought to be a Phrygian cap, taken from an ancient Roman model. However, even the Mint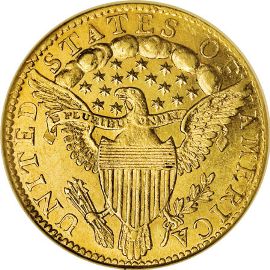 Director at the time Samuel Moore identified this cap in 1825 as a fashionable headdress of the 1790s.
The reverse of these rare gold coins shows a Heraldic Eagle with wings spread. A line of clouds stretch from wing to wing with 13-6 pointed stars below. The designer Robert Scot superimposed a shield for the eagle's breast and sketched the eagle holding arrows in one of its talons and an olive branch in the other.

Coin Specifications:
Designer: Robert Scot
Weight: 4.37 grams
Comp: 91.7% Gold, 8.3% Silver
Diameter: 20mm
Edge: Reeded




Capped Bust Quarter Eagles (no Stars) to Quarter Eagle
Back to Coin Collecting Homepage