Capped Bust Quarters (Large Diameter) by John Reich
Capped Bust Quarters (Large Diameter) were designed by John Reich and minted between 1815 and 1828. Reich was a German engraver that had escaped the Napoleonic Wars. He sold himself as an indentured servant to come to America. Once here, he pursued his calling as an engraver and applied
for a job at the US Mint in Philadelphia. He immediately began creating new designs for US coins.
The obverse of these silver coins shows Liberty facing left, with the date below, and surrounded by thirteen stars. Reich's design of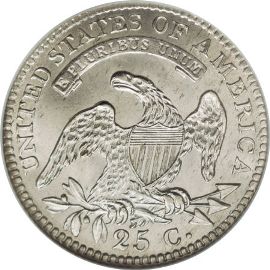 Liberty is very well endowed and, was characterized in the press as resembling "the artist's fat mistress". She is probably very close to the typical woman that Reich would have seen in Europe at that time.
The reverse of this coin shows an eagle with wings spread. The eagle is perched on an olive branch and holding three arrows that signify strength. It also has a Union Shield on its breast and the motto "E PLURIBUS UNUM" on a ribbon above the eagle. The legend "UNITED STATES OF AMERICA" and denomination 25C encircle the entire design.
Coin Specifications:
Designer: John Reich
Weight: 6.74 grams
Comp: 89.2% Silver, 10.8% Copper
Diameter: 27mm
Edge: Reeded




Capped Bust Quarter (Large) to Quarters
Back to Coin Collecting Homepage