Capped Bust Quarters (Small Size)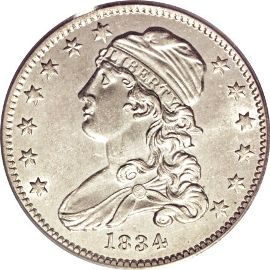 Capped Bust Quarters (Small Size) were made at the US Mint from 1831 to 1838. These were the first silver quarters to be struck with a device known as a "close collar," or more precisely a "collar die". The collar die confines the planchet at the time of striking and also imparts the reeded the edge of the coin.
The entire coin was re-designed by William Kneass. The obverse of these silver coins shows a thinner looking portrait of liberty facing left with a mob cap. The design is surrounded by thirteen stars, and has the date at the bottom.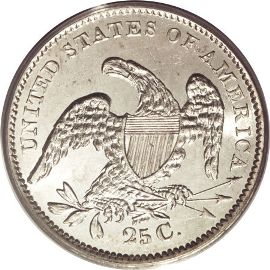 For the reverse of the coin, Mint Director Samuel Moore stepped in and ordered the motto "E PLURIBUS UNUM" be removed from the coin. He felt that it was redundant because "UNITED STATES OF AMERICA" was already on the coin, and in his eyes, signified the same concept. His decision met with much criticism from the public, but it stood until 1892 with the beginning of the Barber series.
Coin Specifications:
Designer: William Kneass
Weight: 6.74 grams
Comp: 89.2% Silver, 10.8% Copper
Diameter: 24.3mm
Edge: Reeded




Capped Bust Quarter (Small) to Quarters
Back to Coin Collecting Homepage