Capped Head Half Eagles (1813-1829)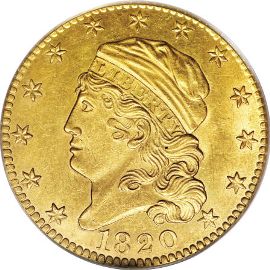 The first type of Capped Head Half Eagles was produced at the US Mint from 1813 to 1829 and is slightly larger than those after 1829. This Half Eagle made its debut in 1813; John Reich's design for the half eagle was copied by Chief Engraver Robert Scot in 1818 and extensively reworked by William Kneass in 1829. Reich modified his earlier Capped Bust design by eliminating the bosom and drapery of Liberty, leaving a large head as the main device, and was surrounded by thirteen stars with the date below.
The reverse of these rare gold coins

was only slightly altered from Reich's 1807 design. It depicts an eagle with wings spread, clutching an olive branch and arrows in its talons. Surrounding the eagle are the inscriptions "UNITED STATES OF AMERICA" and "5 D.". Also, the motto "E PLURIBUS UNUM" is on a ribbon above the eagle's head.
Coin Specifications:
Designer: John Reich
Weight: 8.75 grams
Comp: 91.7% Gold, 8.3% Silver
Diameter: 25mm
Edge: Reeded




Capped Head Half Eagle (Large) to Half Eagles
Back to Coin Collecting Homepage