Capped Head Quarter Eagles
Variety 1 (1821-1827)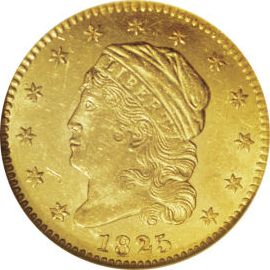 Capped Head Quarter Eagles of 1821 to 1827 comprise the first variety in this series. These rare gold coins are highly sought after and have very low mintages. The vast majority of these coins never entered into circulation, thus when they are found, and come on the market, they are generally in high grades.
For collectors that buy gold coins, these quarter eagles can be very satisfying to own, as they are both rare and beautiful.
Chief Engraver Robert Scot, aging and eyesight failing, was in no condition to create an original

design. He responded with a design borrowed from his 1818 half eagle, itself an adaptation of former assistant John Reich's 1813 Capped-Head motif. John Reich would finally be credited with the design.
The reverse of the coin shows an eagle with outstretched wings. Above the eagle is a scroll with "E PLURIBUS UNUM" inscribed on it. Also, the legend "UNITED STATES OF AMERICA" and denomination "2 1/2 D" surrounded the entire coin.
Coin Specifications:
Designer: John Reich
Weight: 4.37 grams
Comp: 91.7% Gold, 8.3% Silver
Diameter: 18.5mm
Edge: Reeded




Capped Head Quarter Eagles (Large Variety) to Quarter Eagle
Back to Coin Collecting Homepage