Capped Head Quarter Eagles
(Type 2) 1829-1834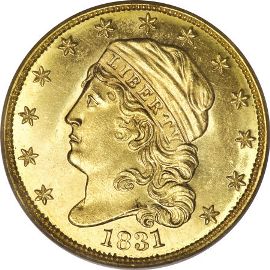 Capped Head Quarter Eagles dated from 1829 to 1834 represent the second type in this series. The major difference between these coins and their predecessors is that they are slightly smaller in diameter. They only measure 18.2mm as opposed to 18.5mm for the earlier type. This quarter eagle maintained the legal weight standard of 4.37 grams. Although it was smaller in diameter, it was also slightly thicker.
The obverse of these rare gold coins depicts Liberty wearing a mobcap that was typically worn by women around the turn or the 19th century.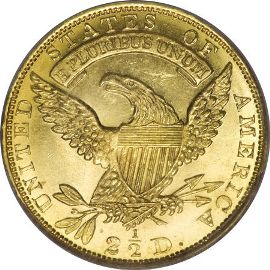 The cap is inscribed "LIBERTY" and the entire design is surrounded with thirteen stars, with the date below.
The reverse of the coin shows an eagle with outstretched wings. Above the eagle is a ribbon with "E PLURIBUS UNUM" inscribed on it. Also, the legend "UNITED STATES
OF AMERICA" and denomination
"2 1/2 D" surrounds the entire coin.
Coin Specifications:
Designer: William Kneass
Weight: 4.37 grams
Comp: 91.7% Gold, 8.3% Silver
Diameter: 18.2mm
Edge: Reeded




Capped Head Quarter Eagles (Reduced) to Quarter Eagle
Back to Coin Collecting Homepage