Classic Head Large Cents - New Design by John Reich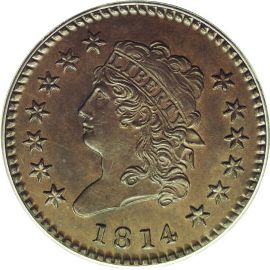 Classic Head Large Cents were coined between 1808 and 1814 at the US Mint. This design was adopted when new Mint Director Robert Patterson assigned John Reich to redesign all denominations from the half cent to half eagles. Reich was a very talented engraver from Germany who escaped the Napoleonic Wars, and sold himself into indentured servitude to come to America.
The obverse design for these copper coins was a left-facing portrait of Liberty having curly hair, tied with a headband, and bearing the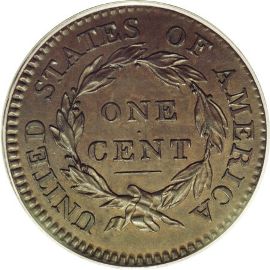 inscription "LIBERTY". The portrait is surrounded by 13 6-pointed stars, seven to the left and six to the right, with the date below the entire design.
The reverse design bears the denomination "ONE CENT" inside a laurel wreath, and tied by a bow at the bottom. The entire design is encircled by the inscription "UNITED STATES OF AMERICA".
Early American coppers were large and cumbersome as well as being dirty and all around unattractive. However, as years continued, these copper coins served a major role in
daily life as a means for purchasing
daily. Today, they are a favorite of
collectors.
Coin Specifications:
Designer: John Reich
Weight: 10.89 grams
Composition 100% Copper
Diameter: 29mm
Edge: Plain




Classic Head to Large Cents
Back to Coin Collecting Homepage