Classic Head Quarter Eagles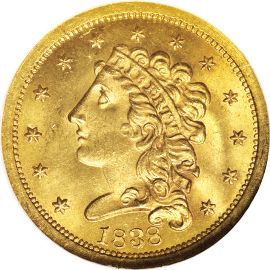 Classic Head Quarter Eagles were in production at the US Mint from 1834 to 1839. At that time, it was highly profitable to export gold and silver coins. In order to stop this practice, Congress, through the Mint Act of 1834, effectively lowered the gold content to 4.18 grams. This had the effect of keeping gold coins in circulation.
Mint Director Samuel Moore instructed William Kneass to prepare dies for a new design. Kneass, pressed for time, borrowed John Reich's "Classic" design from the Large Cents of 1808-14 and his own

eagle from the gold half eagle coins of 1807.
Kneass' adaptation depicted John Reich's Liberty facing left, her curly hair cascading down the back of her neck, tied by a headband inscribed with "LIBERTY". The date is below and the entire design is surrounded by thirteen stars.
The reverse features an eagle perched on an olive branch and clutching three arrows in its talons. The entire design is encircled with the inscriptions "UNITED STATES OF AMERICA" and "2 ½ D". The design was similar to the previous Capped
Head motif so officials decided to delete the motto "E PLURIBUS UNUM". This provided the public with an easy way to distinguish the new, lighter-weight pieces.
These are not necessarily considered to be rare gold coins; however, in high grades of MS-64 to MS-65 they can be relatively expensive for the average collector.
Coin Specifications:
Designer: William Kneass
Weight: 4.18 grams
Comp: 89.9% Gold, 10.1% Copper
Diameter: 18.2mm
Edge: Reeded




Classic Head Quarter Eagles to Quarter Eagle
Back to Coin Collecting Homepage