Coronet Large Cents
More difficulty at the Mint.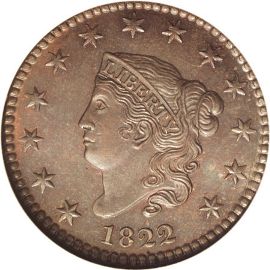 The Coronet Type Large Cents were in production at the US Mint from 1816 to 1835. Robert Scot was reassigned to create a new large cent after John Reich attempted and failed on the Classic Head design. This new large cent was also criticized by the public as looking
like an obese ward boss.
The new obverse design has an enlarged head of Liberty. The headband worn by liberty on the previous series was replaced by a crown and the word LIBERTY was added on it. The entire design is encircled by 13 to 15 stars and the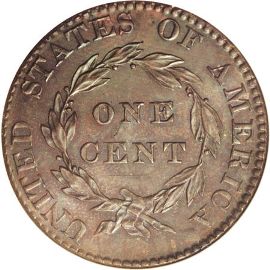 date is inscribed below.
The reverse of these copper coins went unchanged and kept the laurel wreath of John Reich's design. The reverse has the inscriptions "ONE CENT" within the wreath, and "UNITED STATES OF AMERICA" around the top. The wreath is held together with a bow.
Coin Specifications:
Designer: Robert Scot
Weight: 10.89 grams
Composition 100% Copper
Diameter: 28-29mm
Edge: Plain