Draped Bust Dime - Heraldic Eagle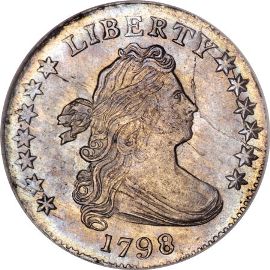 The Draped Bust Dime Heraldic Eagle variety was produced between 1798 and 1807. This coin was meant to replace the Small Eagle variety that was not widely accepted by the public.
The obverse of these silver coins
has a portrait inspired by Mrs.
William Bingham and was initially drawn by Gilbert Stuart. Mr. Stuart was a very well known artist at that time. In 1797 the front of this coin was made with either 13 or 16 stars.
The reverse keeps with the usual Heraldic Eagle motif and mirrors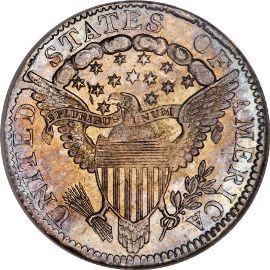 the Great Seal of the United States. The other silver denominations of half dimes, quarters, half dollars, and dollars also have this reverse.


Coin Specifications:
Designer: Robert Scot
Weight: 2.70 grams
Comp: 89.2% Silver, 10.8% Copper
Diameter: 19.0mm
Edge: Reeded




Draped Bust Dime (Heraldic Eagle) to Dimes
Back to Coin Collecting Homepage