Draped Bust Dime - Small Eagle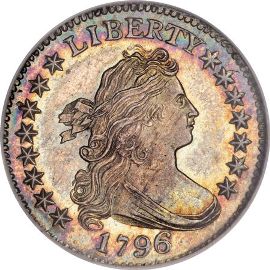 The Draped Bust Dime Small Eagle reverse was the first regular issue ten cent piece produced by the U.S. Mint. It was distributed to the public between 1796 and 1797.
During that time the U.S. Mint had a need to keep all its coins uniform in appearance. Therefore, the obverse of this coin roughly matches that of the silver half dimes, quarters, half dollars and dollar coins. The front of the coin also matches the copper denominations of half cent and large cents. Varieties exist with both 13 and 16 stars on the obverse.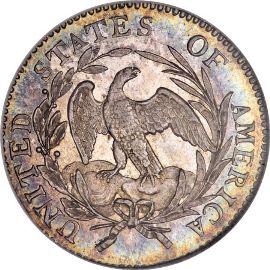 The reverse of these small silver coins bears the same design as the rest of the silver denominations. It has a small eagle on a cloud inside a wreath. The words "UNITED STATES OF AMERICA" encircle the entire design.

Coin Specifications:
Designer: Robert Scot
Weight: 2.70 grams
Comp: 89.2% Silver, 10.8% Copper
Diameter: 19.0mm
Edge: Reeded




Draped Bust Dime (Small Eagle) to Dimes
Back to Coin Collecting Homepage