Draped Bust Silver Dollar
Heraldic Eagle Reverse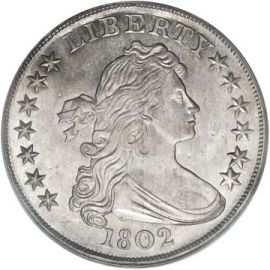 The Draped Bust Silver Dollar with Heraldic Eagle reverse was produced from 1798 to 1804. The Obverse of these coins once again features the likeness of Mrs. William Bingham. She was a Philadelphia socialite who was widely regarded as one of the most beautiful woman of her time. The inscription "LIBERTY" reads above the portrait and the date below it. The coin also has between 13 and 15 stars encircling the entire design of the obverse.
The reverse of the coin shows a Heraldic Eagle with wings spread. A line of clouds stretch from wing to

wing with 13-6 pointed stars below. The designer Robert Scot superimposed a shield for the eagle's breast and sketched the eagle clutching arrows in one of its talons and an olive branch in the other.
These Silver Dollars are some of the most famous coins of all time. The 1804 Dollar in particular has enjoyed more attention than most all other U.S. Coins. There are fifteen specimens known for this year. Eight of them are considered to be originals and the other seven are re-strikes. They are relatively easy to tell apart due to the position of the words "STATES OF" in relation to the
clouds on the reverse of the coin.

Coin Specifications:
Designer: Robert Scot
Weight: 26.96 grams
Comp: 89.2% Silver, 10.8% Copper
Diameter: 39-40mm
Edge: HUNDRED CENTS ONE DOLLAR OR UNIT




Draped Bust Dollar (Heraldic Eagle) to Silver Dollars
Back to Coin Collecting Homepage