The Draped Bust Silver Dollar
Small Eagle Reverse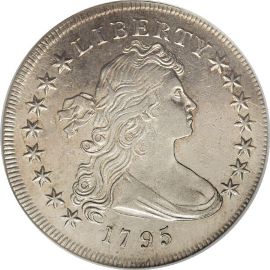 The Draped Bust Silver Dollar with Small Eagle reverse was minted between 1795 and 1798. These coins are very important with regard to history as they carry the same obverse as the famed 1804 Silver Dollars!
The dollar is the cornerstone of the monetary system. It was born of our Founding Fathers and still lives today. The one-dollar coin was not only the largest silver coin but, in the view of mint officials, the most prestigious as well as most important in showing other countries how serious we are about having our own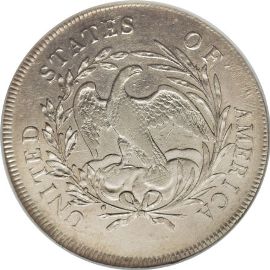 monetary system. The United States wanted to incorporate beauty as well as accuracy of metal content in all products from the mint.
The obverse of these silver coins, like all other coins of this series, features Gilbert Stuart's portrait of Mrs. William Bingham. The portrait was surrounded by from 13 to 16 six-pointed stars. The obverse also has LIBERTY inscribed above and the date below the portrait.
The reverse has a small eagle perched on a cloud surrounded by a wreath of olive and palm branches. It also has the inscription UNITED
STATES OF AMERICA around the wreath.

Coin Specifications:
Designer: Robert Scot
Weight: 26.96 grams
Comp: 89.2% Silver, 10.8% Copper
Diameter: 39-40mm
Edge: HUNDRED CENTS ONE DOLLAR OR UNIT




Draped Bust Dollar (Small Eagle) to Silver Dollars
Back to Coin Collecting Homepage