Draped Bust Half Dollar
Heraldic Eagle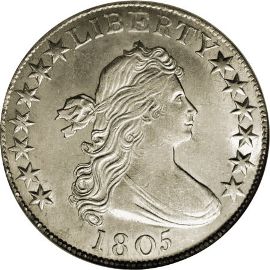 Draped Bust Half Dollars with Heraldic Eagle reverse were produced from 1801 to 1807. The U.S. Mint skipped three years with this denomination between 1798 and 1800. During this time they re-designed the reverse from a small eagle to a heraldic eagle. The new design enjoyed approval from the public and was continued for seven years. These silver coins were minted every year with the exception of 1804.
The obverse of the coin features Philadelphia socialite Mrs. William Bingham (nee Ann Willing). She was said to be the most beautiful woman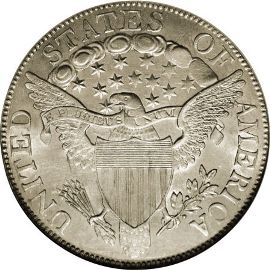 of her day. These silver coins also have the inscription LIBERTY above the portrait and UNITED STATES OF AMERICA encircling the entire design.
The reverse of the coin shows a Heraldic Eagle with wings spread. A line of clouds stretch from wing to wing with 13-6 pointed stars below. The designer Robert Scot superimposed a shield for the eagle's breast and sketched the eagle clutching arrows in one of its talons and an olive branch in the other.
Coin Specifications:
Designer: Robert Scot
Weight: 13.48 grams
Comp: 89.2% Silver, 10.8% Copper
Diameter: 32.5mm
Edge: FIFTY CENTS OR HALF A DOLLAR




Draped Bust Half Dollar (Heraldic Eagle) to Half Dollars
Back to Coin Collecting Homepage