Draped Bust Half Dollar
Small Eagle Reverse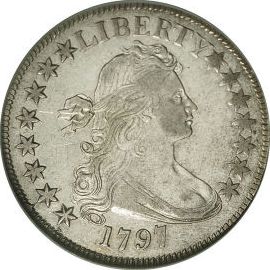 The Draped Bust Half Dollar with Small Eagle reverse was produced between 1796 and 1797. This coin had a combined mintage of only 3,918 pieces for both years. This fact makes demand for them very high by collectors and investors alike.
The obverse of these silver coins, like all other coins of this series, features Gilbert Stuart's portrait of Mrs. William Bingham. The portrait was surrounded by 15-6 pointed stars. Some of the coins dated 1796 have 16-6 pointed stars to signify Tennessee being admitted into the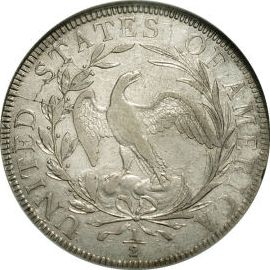 union. The obverse also has LIBERTY inscribed above and the date below the portrait.
The reverse has a small eagle perched on a cloud surrounded by a wreath of olive and palm branches. It also has the inscription UNITED STATES OF AMERICA around the wreath.
Another way you can identify this particular series of half dollar is that it has the denomination symbol 1/2 on its reverse.

Coin Specifications:
Designer: Robert Scot
Weight: 13.48 grams
Comp: 89.2% Silver, 10.8% Copper
Diameter: 32.5mm
Edge: FIFTY CENTS OR HALF A DOLLAR




Draped Bust Half Dollar (Small Eagle) to Half Dollars
Back to Coin Collecting Homepage