Draped Bust Quarter Heraldic Eagle
The resurrection of a design.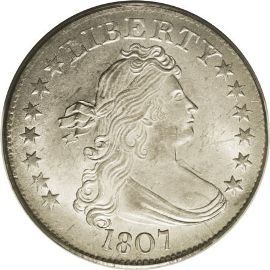 The Draped Bust Quarter with Heraldic Eagle was the second in a long line of varieties for this denomination. They were minted from 1804 to 1807 and designed by Robert Scot.
The obverse of this coin is nearly identical to that of its earlier counterpart in 1796. It features a draped bust design of Mrs. William Bingham a Philadelphia socialite sketched by Gilbert Stuart. The major difference between the two is that the second later issue only shows 13 six pointed stars around the portrait while the 1796 issue has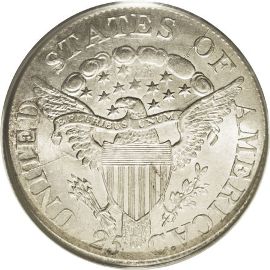 15 stars. The obverse also has the inscription LIBERTY above and the date below.
The reverse of these silver coins changed from the small eagle version to the heraldic eagle version in 1804. The new coins reverse was designed around the great seal of the United States. It also has 13 stars between the eagle's wings and beneath the clouds. It also shows an olive branch and a sheaf of arrows clutched in each of the eagle's talons. It also has an inscription around the entire design that reads THE UNITED STATES OF AMERICA.

Coin Specifications:
Designer: Robert Scot
Weight: 6.74 grams
Comp: 89.2% Silver, 10.8% Copper
Diameter: 27.5mm
Edge: Reeded




Draped Bust Quarter (Heraldic Eagle) to Quarters
Back to Coin Collecting Homepage