Eisenhower Dollars (1971-1978)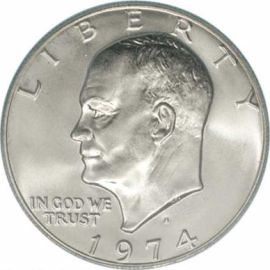 Eisenhower Dollars were minted at the US Mint from 1971 to 1978. The coins began production after a five year ban set forth by the Coinage Act of July 23, 1965. This Act stated that no standard silver dollars were to be produced for a period of five years. As this time came to a close, Congressman Bob Casey of Texas introduced a bill into the House of Representatives on October 29, 1969. The bill called for a circulating commemorative dollar to honor both Eisenhower and the Apollo XI space flight. After more than a year had passed, the bill became a law on December 31, 1970.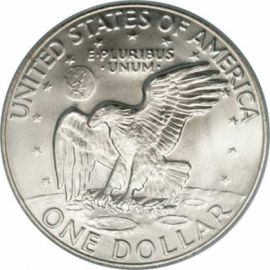 The obverse of these dollars was designed by Frank Gasparro and features a portrait of Dwight D Eisenhower. The legend "LIBERTY" appears in an arc above while the motto "IN GOD WE TRUST" is below Eisenhower's chin.
The reverse shows an American eagle with an olive branch of peace in its claws, descending onto the moon. The distant Earth is in the field above and to the left. The motto "E PLURIBUS UNUM" is above the eagle, and the inscriptions "UNITED STATES OF AMERICA" and
"ONE DOLLAR" are arranged around
the coins entire periphery.
Coin Specifications:
Designer: Frank Gasparro
Weight: 22.68 grams
Comp: 75.0% Copper, 25.0% Nickel
alloy, bonded to a pure copper core.
Diameter: 38.1mm
Edge: Reeded




Eisenhower Dollars to Silver Dollars
Back to Coin Collecting Homepage