Flying Eagle Cents - The first
ever small cent!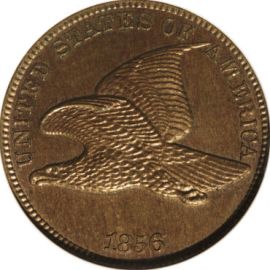 The Obverse of the Flying Eagle cent was designed by James B. Longacre. It was patterned after the Gobrecht Silver Dollars of 1836-1839.
The reverse of these copper coins feature a wreath also designed by Longacre. This wreath was originally used for one and three dollar gold pieces as well.
Gobrecht silver dollars as well as the 1856 version of this coin are considered to be pattern coins and not regular mint issues. Mint issues entered circulation in 1857.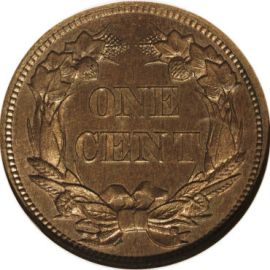 The new "nicks" as they were called for their partial alloy with nickel were widely accepted. Nickel is a very hard and brittle metal. This made these small cents difficult to produce and resulted in the occasional breakdown at the mint.
Coin Specifications:
Designer: James B. Longacre
Weight: 4.67 grams
Composition 88% Copper, 12% Nickel
Diameter: 19mm
Edge: Plain




Flying Eagle to Small Cents
Back to Coin Collecting Homepage