Franklin Half Dollars 1948-1963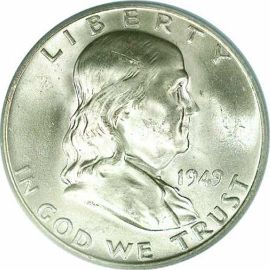 Franklin Half Dollars made their debut in 1948 and completed the transformation of American coinage from allegorical figures to portraits of famous Americans. As the Walking Liberty Half Dollar neared its statutory minimum of 25 years in production, Mint Director Nellie Tayloe Ross ordered John R. Sinnock, the Mint's chief engraver to change the design. After seeing a US Mint medal produced in Franklin's honor in 1933, Ross decided this would be the theme of the new half dollar.
Sinnock's portrait of Benjamin Franklin, modeled after a bust by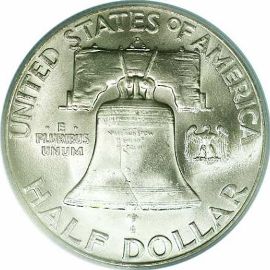 18th-century sculptor Jean-Antoine Houdon, contrasts sharply with the subtle, detailed depiction of Miss Liberty on the Walking Liberty coin it replaced. The inscriptions "LIBERTY" and "IN GOD WE TRUST" surround the right-facing portrait, with the date to the right of Franklin. Tucked below Franklin's shoulder are Sinnock's initials, JRS.
The reverse of these silver coins shows the Liberty Bell and has three different inscriptions, all with the same sans serif style of the obverse. The coin reads "UNITED STATES OF AMERICA" above and "HALF DOLLAR" below the bell. Also, the left field of
the coin is inscribed with "E PLURIBUS
UNUM".
Coin Specifications:
Designer: John R. Sinnock
Weight: 12.50 grams
Comp: 90.0% Silver, 10.0% Copper
Diameter: 30.6mm
Edge: Reeded




Franklin Half Dollars to Half Dollar
Back to Coin Collecting Homepage