The Liberty Gold Dollar
Small in size - Big on History!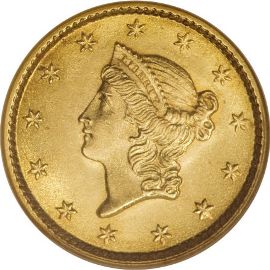 The Liberty Gold Dollar was produced between 1849 and 1854. They are the smallest gold coins ever produced by the U.S. Mint. These coins may be small in size but they are definitely big on history! It took two major gold rushes in order to begin production. Most people who think of gold rushes automatically think of Sutter's Mill in California. However, the first major gold rush occurred in the Carolinas and Georgia in the early 1800's.
After the first initial gold rush started, a German immigrant named Alt Christoph Bechtler saw a need to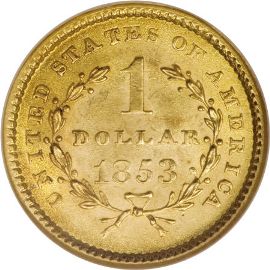 refine the gold and mint shiny new coins for a small fee. This process was perfectly legal under current statutes but the Bechtler's were being watched closely by the Federal Government. The second gold rush
in California started in 1849. It prompted the U.S. Mint to expand
its production to $1.00 gold coins and double eagles. James Longacre was charged with designing these coins and the mint began making these coins in 1849.
On the obverse of these gold coins, James Longacre's portrait of liberty is encircled by 13 stars, symbolic of the 13 original colonies.
The dollar's reverse is very simple because of its diminutive size. It bears the denomination 1 DOLLAR and the date within a wreath. The entire design is surrounded by the inscription "UNITED STATES OF AMERICA".

Coin Specifications:
Designer: James Longacre
Weight: 1.67 grams
Comp: 90.0% Gold, 10.0% Copper
Diameter: 13mm
Edge: Reeded




Liberty Dollars (Type 1) to Gold Dollar
Back to Coin Collecting Homepage