Illinois Centennial Half Dollar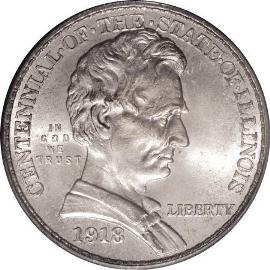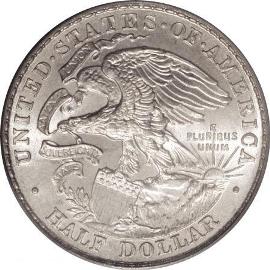 The 1918 Illinois Centennial Half Dollar was produced to commemorate the 100th anniversary of Illinois entering into the union as the 21st state. These silver coins are the first in a long line of commemorative half dollars that mark anniversaries of states, counties, and municipalities throughout the United States. At the time the coin was released into circulation, the general public referred to it as the Lincoln half dollar but it is better known as the Illinois Centennial Half Dollar.
Some other interesting facts about this coin are that it is the first commemorative, of any kind, to be made in connection with a specific state. Second, it was the first half dollar to show an image of a U.S. President. Lastly, it was the first commemorative coin made by the U.S. Mint that totally sold out its entire authorized mintage of 100,000 coins. Although they were made for coin collectors, many of the coins made it into circulation and the vast majority shows some kind of wear on them.
The obverse of the coin was designed by George T. Morgan who designed other coins such as the Morgan Silver Dollar and several other pattern coins. The coin portrays a beardless Abraham Lincoln and is the only other United States coin, besides the Lincoln cent, to bear his portrait. The image is based upon a statue of our 16th president by Andrew O' Conner. The statue is currently housed at the State Capital Building in Springfield IL.
As stated earlier, the obverse shows a right facing image of Lincoln as its central theme. The inscription around the edge of the coin reads "CENTENNIAL OF THE STATE OF ILLINOIS". Located behind Lincoln's neck is "IN GOD WE TRUST" and in front "LIBERTY" with the date "1918" below his shoulder.
The reverse of the coin was designed by John R. Sinnock who also designed the current Roosevelt dime. The back of the coin was based on the Illinois State Seal with some adjustments. It shows an eagle perched on a rock, with a shield in its talons. It also has a setting sun in the background to the right.
The text on the reverse includes "UNITED STATES OF AMERICA" around the periphery, and above the main design. Also, the denomination "HALF DOLLAR" appears below. The inscription "E PLURIBUS UNUM" is positioned to the right of the eagle and above the setting sun. Lastly, the eagle has a ribbon in its beak that reads "STATE SOVERIGNITY NATIONAL UNION" which is the Illinois motto.
Dates Minted: 1918
Authorization: Act of June 1, 1918
Authorized mintage: 100,000
Actual distribution: 100,000
Designer: Obv: George T. Morgan, Rev: John R. Sinnock
Weight: 12.50 grams
Composition: 90% Silver, 10% Copper
Diameter: 30.6mm


Illinois Centennial Half Dollar to Commemorative Coins
Back to Coin Collecting Homepage