Indian Head Eagle (with Motto)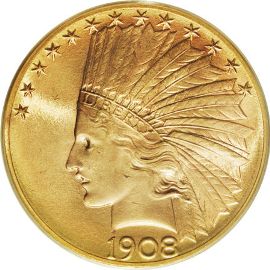 Indian Head Eagles with Motto constitute the second variety of this type. Produced at the US Mint between 1908 and 1933, these medium sized gold coins are the last of their kind. In 1933 President Franklin D Roosevelt issued an executive order to confiscate all circulating gold coins.
The front of this gold eagle shows a Native American wearing a war bonnet having the word "LIBERTY" inscribed on it. The obverse of the coin also has thirteen stars around the top of the coin, with the date inscribed below.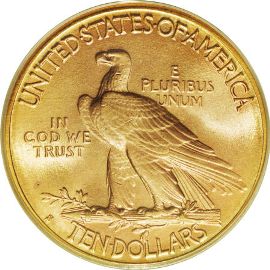 The reverse of the coin shows an eagle perched on a bundle of arrows, with the motto "E PLURIBUS UNUM" to the right and "IN GOD WE TRUST" to the left. Encircling the coin above the eagle is the legend "UNITED STATES OF AMERICA". Below is the denomination "TEN DOLLARS".
Coin Specifications:
Designer: Augustus Saint-Gaudens
Weight: 16.72 grams
Comp: 90.0% Gold, 10.0% Silver
Diameter: 27mm
Edge: 46 to 48 raised stars




Indian Head Eagles (Motto) to Eagles
Back to Coin Collecting Homepage