Bronze Indian Head Cents
A new alloy for an old favorite.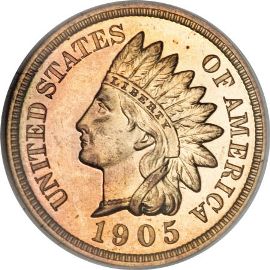 Bronze Indian Head Cents were made between 1864 and 1909. They are a variation of the oak wreath cents that came before them. They still have the same wreath however; the difference is that they are made of a bronze alloy consisting of 95% Copper and 5% tin and zinc. These coins weigh in at 3.11 grams or
1/3rd the weight of the previous issue.
The obverse of these coins has gone unchanged. To the uninitiated it shows a Native American with a feather headdress. Technically, the obverse is modeled after a Greco-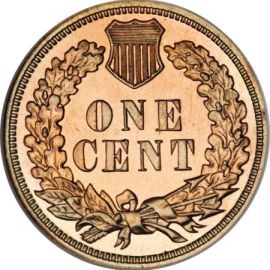 Roman statue Venus Accroupie and was designed by James B. Longacre. This coin won great public approval and was produced for almost half a century.
The reverse has the same look as its predecessor, bearing an open wreath made of oak leaves with a shield at the top. The wreath also has a ribbon at the bottom holding it together and the denomination within. Overall, it is a very simple design, and was adopted because it was easy to fully strike the coin with minimal die wear.
Coin Specifications:
Designer: James B. Longacre
Weight: 3.11 grams
Composition 95% Copper, 5% Tin & Zinc
Diameter: 19mm
Edge: Plain




Bronze Indian Head Cents to Small Cents
Back to Coin Collecting Homepage