James Polk Presidential Dollar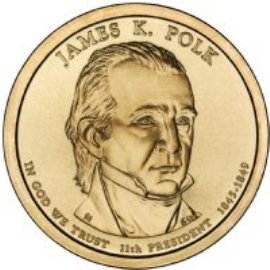 The James Polk Presidential Dollar marks the eleventh in the series. The coins were first released into circulation on August 20, 2009. Polk served one term as president from 1845 to 1849. His Vice president was George M. Dallas.
Some facts about Polk include being president when the California Gold Rush began. He also was the first president who did not seek re-election. Lastly, Polk and his wife Sarah did not have any children during their marriage.
The obverse of this golden dollar shows a portrait of him with his name inscribed above, "IN GOD WE TRUST" and "11th PRESIDENT 1845 to 1849" is inscribed below.
The reverse of the coin is the same on all issues. It bears a portrait of the Statue of Liberty, and includes the inscriptions "UNITED STATES OF AMERICA," and "$1" for the denomination.
The edge of the coin has the date and mintmark along with the mottoes "IN GOD WE TRUST" and "E PLURIBUS UNUM."
Born: November 2, 1795
Birthplace: Mecklenburg County, North Carolina
Political Party: Democratic
Term of Office: March 4, 1845 thru March 3, 1849
Vice President: George M. Dallas
First Lady: Sarah Childress Polk, wife
Nickname: Young Hickory
Died: June 15, 1849




James Polk Presidential Dollar to Presidential Dollars
Back to Coin Collecting Homepage