Jefferson Nickels
Unchanged for 66 years!
Jefferson Nickels originated in 1938 after the 26 year run of Buffalo Nickels had ended. Including the wartime issues of 1942 thru 1945, this nickel series was produced for an impressive 66 years until 2003 when the "Westward Journey" nickel series began in 2004.
The obverse of this coin bears a portrait of Thomas Jefferson, and was designed by Felix Schlag. The front of the coin also has the inscriptions "IN GOD WE TRUST" at the left of Jefferson, and "LIBERTY" along with the date at the right.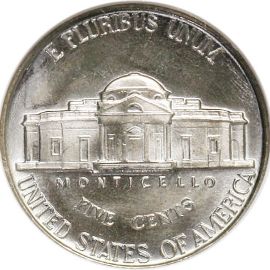 The reverse of this coin has a picture of Jefferson's home with the name MONTICELLO under it along with the denomination and the inscription "UNITED STATES OF AMERICA". Above Jefferson's home is inscribed "E PLURIBUS UNUM" which is Latin for "One of Many".
Coin Specifications:
Designer: Felix Schlag
Weight: 5.00 grams
Comp: 75.0% Copper, 25.0% Nickel
Diameter: 21.2mm
Edge: Plain




Jefferson Nickels to Nickels
Back to Coin Collecting Homepage