Kennedy Half Dollars Bicentennial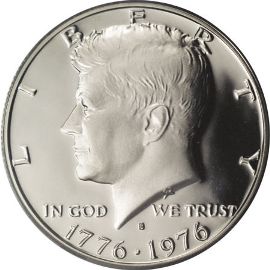 Kennedy Half Dollars that were made in 1975 and 1976 all are dual-dated 1776-1976 to signify the Bicentennial of the United States. In 1973 the US Mint held a competition to select reverse designs for the quarter, half dollar and dollar denominations. There were many entries for the half dollar reverse however the design prepared by Seth G. Huntington was selected.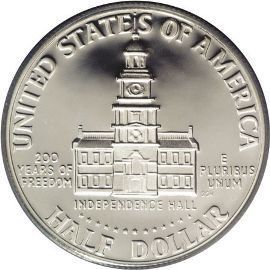 The obverse of the coin has the same portrait of John F. Kennedy as the previous issues dating back to 1964. It has the inscription "LIBERTY" around the central devices of the coin and also has "IN GOD WE TRUST" under the portrait.

The reverse depicts Philadelphia's Independence Hall, birthplace of the United States. Inscriptions include "UNITED STATES OF AMERICA" around the top and the denomination "HALF DOLLAR" on the bottom of the coin. The coin also reads "200 YEARS OF FREEDOM", "E PLURIBUS UNUM" and "INDEPENDENCE HALL" surrounding the building.
Coin Specifications:
Designer Obverse: Gilroy Roberts
Designer Reverse: Seth G. Huntington
Weight: 11.34 grams
Comp: 75.0% Copper, 25.0% Nickel
alloy, bonded to a pure copper core.
Diameter: 30.6mm
Edge: Reeded



Kennedy Half Dollars (Bicentennial) to Half Dollar
Back to Coin Collecting Homepage