Kennedy Half Dollars (1971 to Date)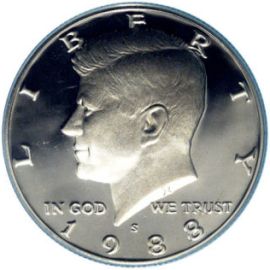 Kennedy Half Dollars ranging in date from 1971 to date have the same general design as the earlier coins. Due to ever increasing silver prices in the late 60's and early 70's, the US Mint decided to omit the metal completely. This was done for obvious price reasons and to ensure the coins stayed in circulation, it also discouraged hoarding.
The new clad coinage began in 1965 for the dime and quarter, but not until 1971 for the half dollar. The obverse of these coins shows a left-facing portrait of John F. Kennedy with "LIBERTY" spelled out along the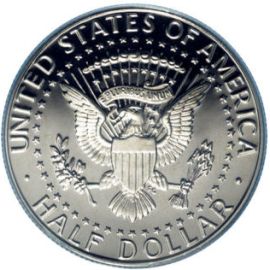 top edge. The inscription "IN GOD WE TRUST" is positioned above the date.
The reverse of the coin is identical to that of the earlier issues from 1964 to 1970. It carries Frank Gasparro's interpretation of the Presidential Seal. Inscriptions include "UNITED STATES OF AMERICA" around the top half, and the denomination "HALF DOLLAR" at the bottom of the coin.
Coin Specifications:
Designer Obverse: Gilroy Roberts
Designer Reverse: Frank Gasparro
Weight: 11.34 grams
Comp: 75.0% Copper, 25.0% Nickel
alloy, bonded to a pure copper core.
Diameter: 30.6mm
Edge: Reeded




Kennedy Half Dollars (Clad) to Half Dollar
Back to Coin Collecting Homepage