Laurel Wreath Indian Head Cents - Easier to strike than the Flying Eagle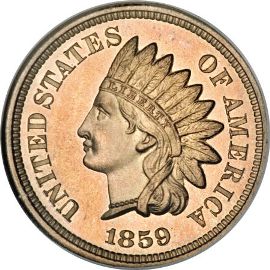 The Laurel Wreath Indian Head Cent was designed by James B. Longacre and features an Indian-girl on the obverse and a wreath made of laurel leaves on the reverse.
The first Indian cents were produced in 1859 and are characterized by a laurel vine wreath with no shield on the reverse. All other years from 1860 to 1909 show an oak wreath with a shield at the top.
This small cent has the same weight and composition as the Flying Eagle Cents before them. This design was chosen partly because the Flying

eagle coins were to high relief and did not strike well.
The coins of this series dated between 1859 and 1864 have the same specifications as listed below. While those cents produced in the following years from 1864 to 1909 are made of bronze that was cheaper to produce.

Coin Specifications:
Designer: James B. Longacre
Weight: 4.67 grams
Composition 88% Copper, 12% Nickel
Diameter: 19mm
Edge: Plain




Laurel Wreath Indian Head Cents to Small Cents
Back to Coin Collecting Homepage