Lewis and Clark Gold Dollar
The Lewis and Clark Exposition Gold Dollars were designed to commemorate the 100th anniversary of their journey across the Louisiana Purchase to the Pacific Northwest. In 1804 Captain Meriwether Lewis and Lieutenant William Clark set out to explore the Missouri River and locate the Northwest Passage. The duration of the trip ranged from May 14, 1804 to September 23, 1806. The expedition, nearly 8,000 miles, started in St. Louis and continued on to the Pacific Ocean and back. President Thomas Jefferson, who commissioned the two men, also instructed them to keep journals and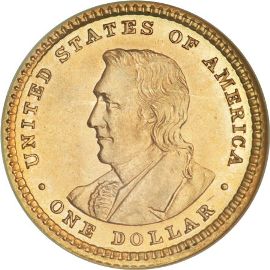 document all new plants and animals as well as details about climate and Native Americans. On the expedition, lewis and clark discovered 178 plants new to science as well as 122 animals.
The expedition wintered at the present site of Bismarck, North Dakota in 1804. There they met Sacagawea and her husband Toussaint Charbonneau, who was interviewed to interpret Hidatsa for the expedition. They were not overly impressed with him. However, Sacagawea his wife spoke Shoshone and Hidatsa, so they hired her on November 4, 1804. Charbonneau and Sacagawea moved into Fort Mandan
a week later. Sacagawea was 17 years old at this time.
These coins were designed by Charles E Barber using portraits by Charles Willson Peale. The obverse features Captain Meriwether Lewis and is surrounded by an inscription that reads "LEWIS-CLARK EXPOSITION PORTLAND ORE.". The front also bears the date of either 1904 or 1905.
The reverse of the coin shows an image of Lieutenant William Clark and also has an inscription that reads "UNITED STATES OF AMERICA" and "ONE DOLLAR". These gold coins have the honor of being the first commemorative gold coin that was struck in multiple years.
When grading, use medium magnification and a good light source. Make sure to check the portraits on both sides of the coin for surface friction before purchase. Check the edges for solder marks as a good amount of these coins were used in jewelry and other applications such as collectible spoons. Also, be aware of counterfeits. These pieces are somewhat porous, with irregularly placed lettering and abnormally weak devices. Counterfeits are occasionally encountered still today.
Dates Minted: 1904-05
Authorization: Act of April 13, 1904
Authorized mintage: 250,000
Actual distribution: 20,066
Designer: Charles Barber
Weight: 1.67 grams
Composition: 90% Gold, 10% Copper
Diameter: 15 mm




Lewis and Clark Gold Dollar to Commemorative Coins
Back to Coin Collecting Homepage