Lexington Concord Sesquicentennial
Half Dollar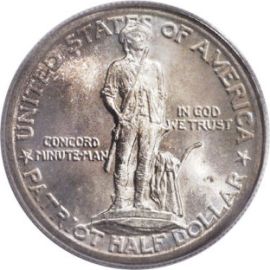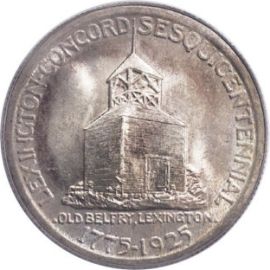 The Lexington Concord Sesquicentennial Half Dollar was struck to commemorate the 150th anniversary of the first military engagements of the American Revolutionary War. The Battles were fought on April 19, 1775 near present day Boston Massachusetts. On the morning of April 19th, 700 British troops left Boston for Concord. Paul Revere, William Dawes and Samuel Prescott were dispatched to Concord to notify its citizens of the British Invasion. Revere was captured by the British and Dawes had to flee. It was Samuel Prescott who was able to warn the American militia of the coming British forces.
This is a very nice coin and well-liked by the numismatic community. Its obverse depicts an image of a minuteman. Members of the American militia, minutemen, were patriots that were prepared to fight the British at a minutes notice. The inscriptions on the obverse of the coin read "UNITED STATES OF AMERICA", "PATRIOT HALF DOLLAR" around the edge. The coin also reads "CONCORD MINUTEMAN" to the left and "IN GOD WE TRUST" to the right of the image.
The reverse is a depiction of the old Belfry at Lexington. The Belfry was built on its present site in 1762 and moved to Battle Green in 1768. The structure was lost to fire in 1909 and an exact reproduction was built the following year. The structure has had many uses over the years, from summoning people to worship, to warning them of danger, and sounding the alarm of April 19, 1775 beginning the American Revolution. The inscriptions on the reverse read "LEXINGTON-CONCORD SESQUICENTENNIAL" around the upper edge. Underneath it states "OLD BELFRY, LEXINGTON" and on the bottom is the dual date of "1775 – 1925".
Circulated examples of this coin are common as are third party graded coins up to about MS-64. Higher than that, they become scarce.  As with any of the classic commemoratives, grades above MS-66 are very rare and prized. Most of these coins are of average strike. Some have weakness on the obverse. Areas of weakness include the minuteman's chin, musket and hat. When grading this coin for wear, the obverse high points are the minuteman's thigh. The top edge of the belfry is highlighted on the reverse.
Dates Minted: 1925
Authorization: Act of January 14, 1925
Authorized mintage: 300,000
Actual distribution: 161,914
Designer: Chester Beach
Weight: 12.50 grams
Composition: 90.0% Silver, 10.0% Copper
Diameter: 30.6 mm

Lexington Concord Sesquicentennial Half to Commemorative Coins