Liberty Head Eagle (no Motto)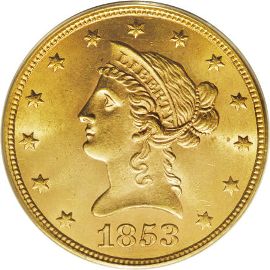 Liberty Head Eagles with no motto were minted at the US Mint from 1838 to 1866. Designed by Christian Gobrecht, dies for these gold coins were prepared after a 34 year break in production. The reason for this was that by 1795, an ounce of gold that was worth 15 ounces of silver in the United States was now worth 15.5 ounces of silver in Paris. Most all of the gold coins being made were sold immediately over seas. Consequently, President Thomas Jefferson ordered production to be halted.
The obverse of this coin features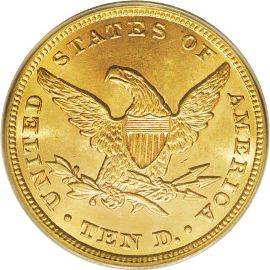 one of the most enduring designs in American numismatics. This design went unchanged for a remarkable 68 years! The central devices are surrounded by thirteen stars and the date appears at the base of the coin.
The reverse of this gold eagle shows a larger version of the same design depicted on the Quarter and Half Eagles. A spread winged eagle graces the reverse of this coin, clutching an olive branch and a bundle of arrows in its talons. Inscriptions on the reverse read "UNITED STATES OF AMERICA" and the denomination "TEN D.".
Coin Specifications:
Designer: Christian Gobrecht
Weight: 16.72 grams
Comp: 90.0% Gold, 10.0% Silver
Diameter: 27mm
Edge: Reeded




Liberty Head Eagles (no Motto) to Eagles
Back to Coin Collecting Homepage