Liberty Head Half Eagle (with Motto)
Liberty Head Half Eagles produced between 1866 and 1908 constitute the second variety in the series. These gold coins are different because they have the motto "IN GOD WE TRUST" on the reverse. This motto first appeared on US coinage in 1864 on the Two Cent piece, and was sparked by the death and mayhem of the American Revolution.
The obverse of this coin bears the same design as its predecessor. The main design of the coin is surrounded by thirteen stars, representing the 13 original colonies. Also, the date is positioned at the base of the coin.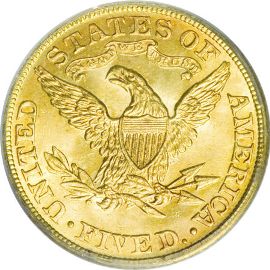 The reverse of the coin shows a similar eagle clutching a bundle of arrows and an olive branch. The motto "IN GOD WE TRUST" is on a banner between the eagles wings. The other inscriptions read "UNITED STATES OF AMERICA" and "FIVE D." around the periphery of the coin.
Coin Specifications:
Designer: Christian Gobrecht
Weight: 8.36 grams
Comp: 90.0% Gold, 10.0% Silver
Diameter: 21.6mm
Edge: Reeded




Liberty Head Half Eagle (Motto) to Half Eagles
Back to Coin Collecting Homepage