Liberty Head Quarter Eagles
(1840-1907)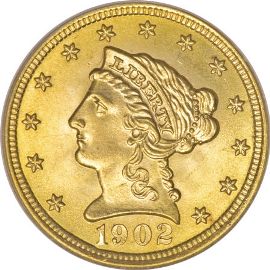 Liberty Head Quarter Eagles were coined at the US Mint from 1840 to 1907. From 1834 up until 1840 the mint searched for a suitable design for these small gold coins. In 1840, Christian Gobrecht revised the earlier design of the Classic Head Quarter Eagles to match his Half Eagle and Eagle denominations.
The obverse of these gold coins shows the same portrait used for the larger denominations. The entire design is surrounded with thirteen stars signifying the 13 original colonies. Also, the date appears below the portrait.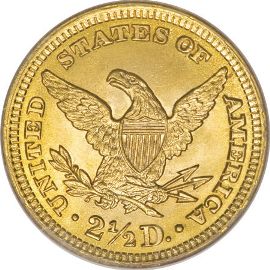 The reverse of the coin has an eagle with a union shield superimposed on its breast. The eagle is clutching an olive branch and a bundle of arrows in its talons. The inscriptions read "UNITED STATES OF AMERICA" and "2 ½ D." around the periphery of the coin.
Coin Specifications:
Designer: Christian Gobrecht
Weight: 4.18 grams
Comp: 90.0% Gold, 10.0% Copper
Diameter: 18.0mm
Edge: Reeded




Liberty Head Quarter Eagles to Quarter Eagle
Back to Coin Collecting Homepage