Lincoln Memorial Cent
Celebrating Abe's 150th Birthday!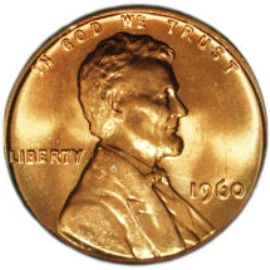 In 1959 the Lincoln Memorial Cent replaced the Wheat Cent as part of the 150th anniversary of Lincoln's birth. The engraving staff at the Mint had been asked to present several designs for consideration. Frank Gasparro, the current assistant engraver at the Philadelphia Mint selected the winning entry.
1959 marked the 50th anniversary of the Lincoln Cent. The obverse of this coin has gone unchanged during that time, and has now surpassed the century mark as of 2009. This is quite an accomplishment, no other

US Mint issue has been in production for 100 years!
The Memorial provides the central design of the reverse. The legends "E PLURIBUS UNUM" and "UNITED STATES OF AMERICA" above the building, and the denomination "ONE CENT" rounding out the motif.
Another interesting fact is that Abraham Lincoln was the only person featured on both the obverse and reverse of the same US coin. This was true for 40 years, until the New Jersey State Quarters were introduced in 1999. They depict George Washington crossing the
Delaware River on the reverse.
Coin Specifications:
Designers:
Obverse - Victor D. Brenner
Reverse - Frank Gasparro
Composition: 1959-1962
95% Copper, 5% Tin and Zinc
Composition: 1962-1982
95% Copper, 5% Zinc
Composition: 1982-Current
Copper plated Zinc alloy
97.5% Zinc, 2.5% Copper
Weight: 2.50 to 3.11 grams
Diameter: 19mm
Edge: Plain




Lincoln Memorial to Small Cents
Back to Coin Collecting Homepage