Louisiana Purchase Jefferson Gold Dollar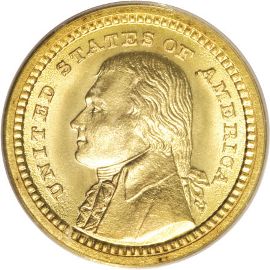 The 1903 Louisiana Purchase Exposition Gold Dollar featuring Thomas Jefferson is one of a pair of coins made to commemorate the 100th anniversary of this event. Along with the William McKinley coins, they are the first $1.00 gold coins made in the classic commemorative series beginning in 1892 and spanning to 1954.
The purchase of this huge expanse of land, more than 828,000 square miles, was made possible by a treaty signed on April 30, 1803. The land was finally turned over to the United States from France on December 20,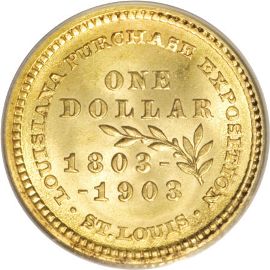 1803. It extends from the Mississippi River to the Rocky Mountains and cost 15 Million Dollars. Amazingly, the cost was only a little over $18.00 per square mile, a great deal even at that time!
The obverse of this coin features a portrait of Thomas Jefferson with
the inscription "UNITED STATES OF AMERICA". The design was copied from the Indian Peace Medal circa 1801 and originally designed by former mint engraver John Reich. This is actually the first legal tender coin made by the US Mint with Jefferson's image on it.
The reverse of the coin shows an olive branch symbolizing peace. It has the inscriptions "ONE DOLLAR" above and is duel dated "1803 – 1903" below. Also, around the entire design the inscription reads "LOUISIANA PURCHASE EXPOSITION – ST. LOUIS".
These coins were originally sold for $3.00 which was fairly high and viewed as a bad investment at the time (how times have changed). The sale and promotion of the entire mintage was done by Farran Zerbe. He was a very good salesperson but only managed to sell about 17,500 of each design. The rest of the mintage was sent back to the mint to be melted. Mr. Zerbe traveled nationwide with his exhibit, Money of the World, selling coins and promoting the hobby of coin collecting.
Dates Minted: 1903
Authorization: Act of June 28, 1902
Authorized mintage: 125,000
Actual distribution: 17,500
Designer: Charles Barber
Weight: 1.67 grams
Composition: 90% Gold, 10% Copper
Diameter: 15 mm




Louisiana Purchase Jefferson Gold Dollar to Commemorative Coins
Back to Coin Collecting Homepage