Louisiana Purchase McKinley Gold Dollar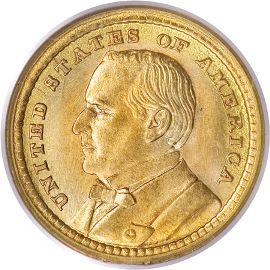 The 100th anniversary celebration of the Louisiana Purchase brought with it two new one dollar gold coins. The William McKinley and Thomas Jefferson Gold Dollars were made to commemorate this event.
When it came time to decide who would be immortalized on these coins, the first was obvious. It was Thomas Jefferson as he was President in 1803 at the time this huge expanse of land was acquired by the United States. The second choice however was a bit different. William McKinley was chosen for the honor due to the fact that his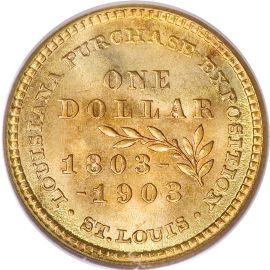 administration authorized the 5 million dollar appropriation for the funding of the souvenir coins. While attending the Pan-American Exposition in Buffalo on September 6, 1901, McKinley was fatally wounded by Leon Czolgosz, an anarchist, and died on September 14th.
The obverse of this coin features a portrait of William McKinley with the inscription "UNITED STATES OF AMERICA". The front was designed by Charles E Barber and was actually borrowed from Barber's own Presidential medal of McKinley.
The reverse of the coin is identical to that of the Jefferson dollars. It shows an olive branch that is supposed to symbolize peace. The inscriptions read "ONE DOLLAR" above, and the coin is duel dated "1803 – 1903" below. Also, around the entire design the inscription reads "LOUISIANA PURCHASE EXPOSITION – ST. LOUIS".
These coins were very high priced for a souvenir coin. At three times face value, they were definitely viewed as a bad investment at the time. Farran Zerbe was commissioned by the Mint for the sale of the entire mintage of 250,000 coins for both Jefferson and McKinley obverses. Mr. Zerbe was only able to sell approximately 35,000 coins total for both dollars. In 1914 a staggering 215,000 gold dollars went back to the US mint to be melted. As for the coins that were sold, it is generally accepted that about 17,350 of each obverse exist today.
Dates Minted: 1903
Authorization: Act of June 28, 1902
Authorized mintage: 125,000
Actual distribution: 17,500
Designer: Charles Barber
Weight: 1.67 grams
Composition: 90% Gold, 10% Copper
Diameter: 15 mm




Louisiana Purchase McKinley Gold Dollar to Commemorative Coins
Back to Coin Collecting Homepage