Maine Centennial Half Dollar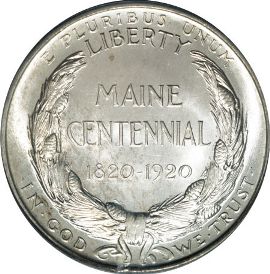 The 1920 Maine Centennial Half Dollar was produced to commemorate the 100th anniversary of Maine entering into the union as the 23rd state. Maine was the second state to issue silver half dollars behind Illinois in 1918.
Interestingly enough, the area had been inhabited by Native American's as early as 3,000 BC. Not much is known of these people except that they lined the graves of their dead with red clay, thus they have been named the "Red Paint" people.
During the 17th and 18th centuries most settlements were at the southern tip of the state, present day New Hampshire and Massachusetts. Due to the harsh winters few survived but it was first settled by the French in the early 17th century. Main's borders were disputed until the war of 1812. Then the Missouri Compromise was completed and Maine was defined as a state, it entered the union in 1820. An interesting fact is that Maine was the northernmost state until Alaska gained statehood in 1959.
The Maine Centennial Celebration was held in Portland from June 26 to July 5, 1920. Unfortunately, these coins were not struck until the second half of 1920 so they were not sold during the celebration. Approximately half of these coins sold in 1920 and the remainder sold during the early 1920's or wound up in circulation.
The obverse of the coin depicts the state seal of Maine, and was designed by Anthony Di Francisci. The shield on the front has a pine tree and a moose within it. The pine tree represents timber products and the moose symbolizes the fur trade. The person on the right is a fisherman with an anchor. He represents how important fishing has been to Maine's economy for centuries. To the left is a man holding a scythe, which is a farming hand tool, used for cutting grass or harvesting crops. The inscriptions around the edge of the obverse read "UNITED STATES OF AMERICA", "HALF DOLLAR" and "MAINE". Above the Maine state seal is a banner that reads "DIRGO" which is the motto and means "I Lead".
The reverse of the coin is rather simple and has a wreath made of pine branches, and a bow at the bottom. The inscriptions around the edge of the coin read "E PLURIBUS UNUM", LIBERTY" and "IN GOD WE TRUST". Also, in the center of the wreath it reads "MAINE CENTENNIAL" and the date "1820-1920".
Dates Minted: 1920
Authorization: Act of May 10, 1920
Authorized mintage: 100,000
Actual distribution: 50,000
Designer: Anthony Di Francisci
Weight: 12.50 grams
Composition: 90% Silver, 10% Copper
Diameter: 30.6mm
Maine Centennial Half Dollar to Commemorative Coins
Back to Coin Collecting Homepage